Athletic Surfaces & Flooring
by Sport Court West Texas
Let Sport Court West Texas install a new game court, or update your existing one with top-of-the-line athletic surfaces and gym flooring products.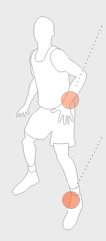 Absorption & Deflection
Sport Court surfaces are offered in a variety of thicknesses, each providing excellent shock absorption at the point of contact.
Sport Court performance flooring helps control the downward and horizontal surface movement where an athlete contacts the floor - a vital component during competitive play.

Ball Bounce
Sport Court surfaces have consistent, true ball bounce and sound, offering the best performance of a synthetic court.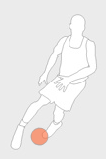 Friction
Sport Court performance flooring has ideal "stop and go characteristics," providing the perfect amount of friction for all games and activities.

Rolling Load
With use of proper pneumatic wheel carts, Sport Court performance flooring will handle virtually any rolling load necessary for a gym or multi-purpose area.
Sport Court is the official flooring of several professional leagues and collegiate programs throughout the world. Our versatility enables us to accomodate a variety of sports, from Division I NCAA Volleyball Championships to the International Basketball Federation to Professional Futsal League.